The Boldness of Jesus in Us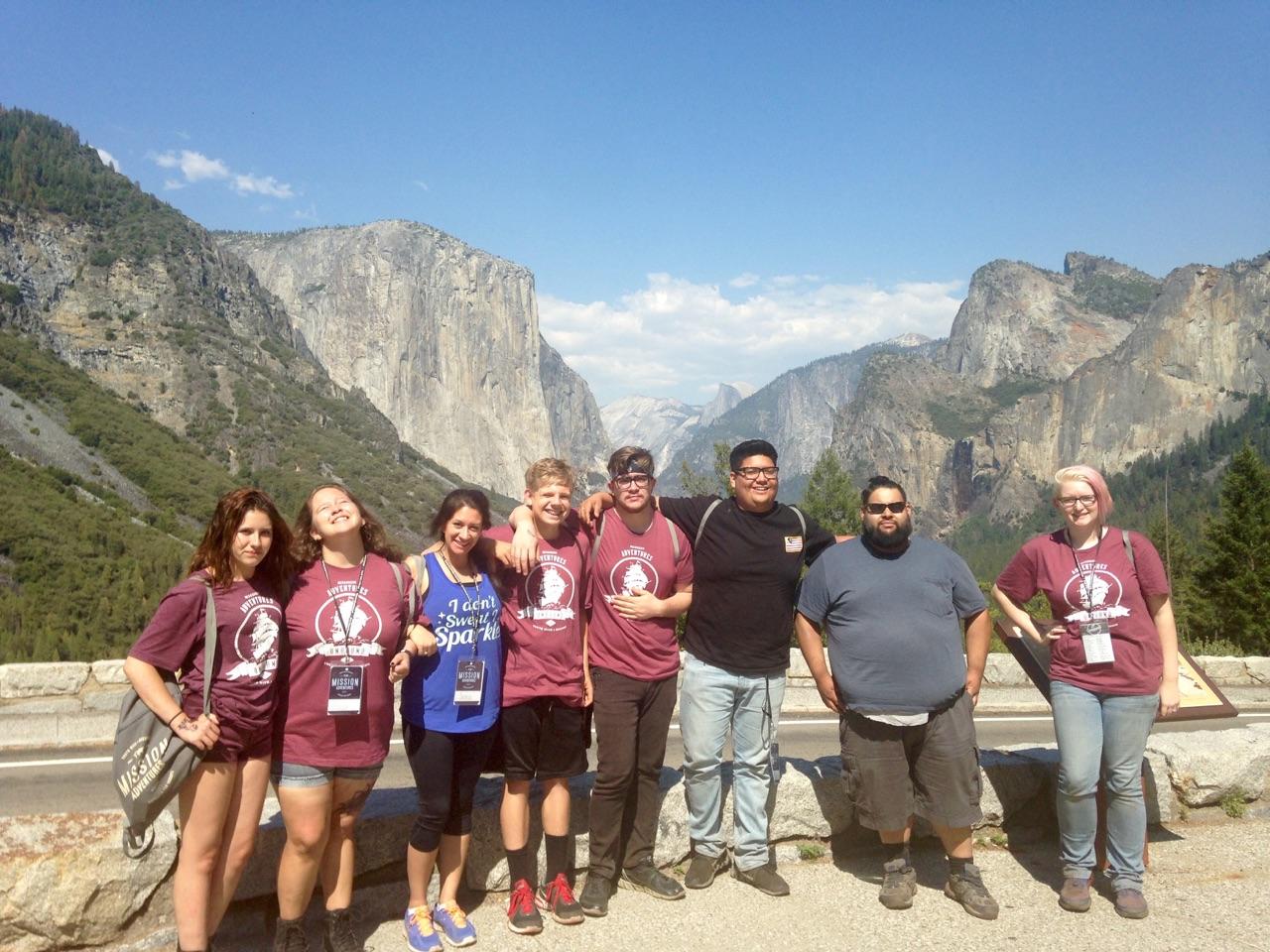 Hello fellow bloggers! It's been a bit since we last blogged. So much has been happening here at YWAM Yosemite and I am so excited to share what God has been doing. This last week we hosted a group of high school students for our Mission Adventures program. Mission Adventures is an evangelistic focused week for students to step out of their comfort zones and spread the good news of Jesus! The first night the students arrived on our base, our whole staff team was blown away by their love and boldness for The Father. They shared their testimonies with a refreshing vulnerability, showing no shame in their past because of the freedom Christ has gifted us all. We were their leaders for the week, but they were the ones teaching us! It was so encouraging and exciting to see how the Lord used them here.
The Lord moved in big ways as we passed out water bottles to tired hikers in Yosemite, went door-to-door, prayed for our neighbors in Oakhurst, and asked strangers questions about their thoughts on Jesus. We got to see these high schoolers step out in confidence of who Jesus is and love complete strangers. Even when the students got rejected, they were all so pumped because it fired them up to share with the next person! Each day there were new opportunities for bravery within each student and new challenges in boldness for The Lord.
The first half of the week was spent on our YWAM Base but the second half was spent camping near Yosemite. It was so great to be away from technology and the noisy business of life to just spend alone time with Jesus. Whether we were eating s'mores or singing in worship, the Holy Spirit was always moving. So many students were set free this week, walking in a new boldness because they are confident in who Jesus has made them to be. The Lord drew greatness out of all the students and set a fire within them to share more of Jesus to everyone they meet.
On our last day of evangelism, we were in Yosemite asking God to give us a specific word or picture about someone He wanted us to talk to about Him. We split up in to small groups and prayed for God to speak to us. After each group felt unified in what The Spirit was saying, we all headed out searching for who God had laid on our hearts. One group started talking to a man they felt God had led them to and asked him about his life. After some conversation and prayer, he ended up dedicating his life to Jesus!!!! Praise God! Little did that group know that another group had heard a specific name from The Lord and it was this man's name! It was so incredible to see how God works and cares for His children enough to send a group of high schoolers to a man they don't know in order for that man to know who Jesus is. Lives were changed this week because of Jesus– not only the student's lives, but also lives in the community as well!
As we said our goodbyes to the students the next day, we sent them off in thanksgiving and confidence in The Lord for what He did in each of their hearts. They will go home changed, with a new boldness for Jesus, and a fire to know Him more. Our God is so faithful to us. He is so loving to strengthen us even when we feel weak and speak to us when we feel unworthy. He is the ultimate Giver Of Freedom and just wants all of His children to take that gift!
When was the last time you shared the good news of Jesus with someone?